MARIELA CASTRO ESPIN AND DIAZ-CANEL: THE ASEXUADA CASTRIST AND THE PRESIDENT REPEATER.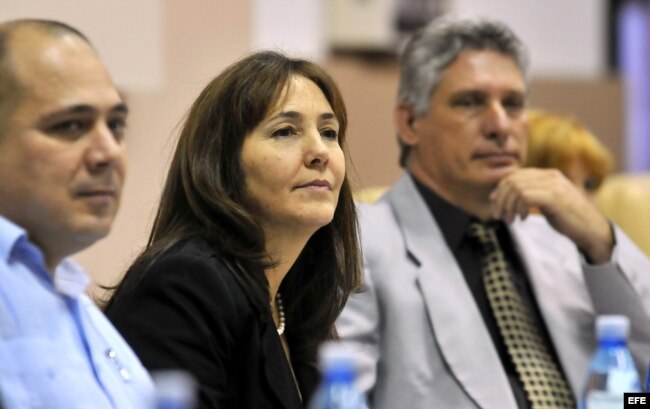 Apparently Dr. Mariela Castro Espín has been silenced lately. She no longer makes those delusional statements about SOCIALISM and the new experiences they have brought. The `people, who apparently have no alternative but to swallow their tongues as if they constituted a mass of ignorant people - "Where are the intellectuals who think for themselves and who aren't fooled by populist speeches anymore?" ¿Are they affraid for a change?
The idea of the rulers - especially the late Fidel - for the peole who are tired of hunger and deprivation even before the blockade worsened.
In the face of other alternative information, the people have to take off the boring round tables where the same thing is repeated over and over again.
As the newspaper Granma published an article there at the beginning of the 90s. "A true Communist does not make mistakes" that even raised some lukewarm criticism from some revolutionary journalists. An opportunistic outcast who wanted to be more communist than Marx himself.
And you, Mariela, deceiving us that the construction of socialism is nothing more than "simple experiments". But until when are they going to be deceiving a part of the people who have lived from the benefactor state in exchange for their freedom and who don't want a true liberation?
Now it seems that you are silent or they sent you to moderate your statements. You shadowed President Diaz-Canel himself and took center stage before the people. Uncreative the Chief - hand-put, not by popular choice - that only repeats phrases of the delirious commander in chief who has plunged the once prosperous island in a calamitous essay of failed communism. Even when?
And the bad administration continues to wreak havoc among the second-hand leaders and the administrators of the poor wealth of the people.
Already the people apparently in silence will raise their loud voice in protest against the annihilation of a population that doesn't have access to the CUC or the dollar.
They have kidnapped Jose Marti, the real one, in a Martian Studies Center, while not presenting his writings on the true freedom and image he had against tyrants and his appreciation of American society with its capitalist dynamics.
Martí belongs to all Cubans, those inside and outside. Don't monopolize him and make him a posthumous member of the CCP.
Martí would not like that reproach. Let students know the whole truth, not to turn to Facebook to find alternative information. No. The true José Marti. our great patriot.
Mariela, princess heiress of Castroism and Diaz-Canel, measure well your statements that the people are already tired and the free countries too.
It's just a matter of time. History will not absolve you
.Orlando Vicente Álvarez